Have a Happy (and Healthy) Thanksgiving
Thanksgiving is coming! I don't know about you, but I am so excited. I love this holiday – the family time, the food, sharing gratitude and appreciation… It's just the best! 
However, I know that sometimes, the holidays can bring a little stress. Especially when it comes to food and making healthy choices. Most people think that their healthy diet and the holidays aren't the most compatible. And while it's true that the parties, family gatherings, and celebrations may create some challenges, there are many ways to navigate the holiday season all while maintaining a perfectly balanced diet.
So, let me show you how you can make it through this Thanksgiving, healthy and stress free!
Thanksgiving Turkey Trot
Get active! There is no better way to start Thanksgiving day than to find some way to be active before the big meal. And no, it's not because you need to burn off extra calories before dinner (one meal won't hurt you). It's because physical activity has some amazing benefits, which will leave you feeling energized and ready to enjoy the day!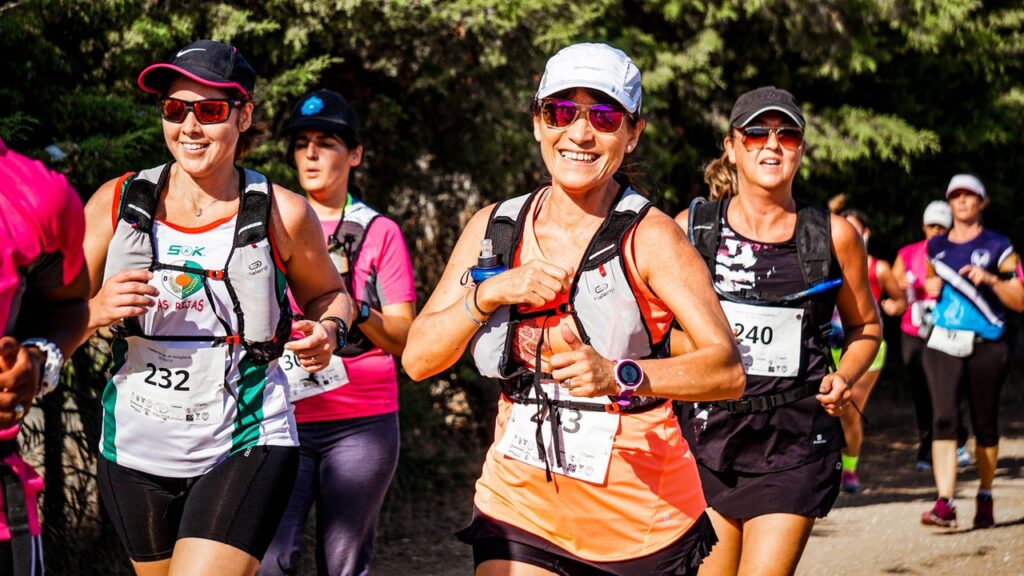 Regular exercise reduces our risk of chronic disease, it keeps our bones and joints healthy, it can be good for our mental health, and it even has a large role in keeping us energized throughout the day. [1-7]
So, to start your Thanksgiving holiday off right, by signing up for a Turkey Trot 5K run! Or, maybe encourage your family and friends to join you for a walk outside. You can even get activity in by playing games, like corn-hole or a friendly game of flag football!
Get Yourself a Plate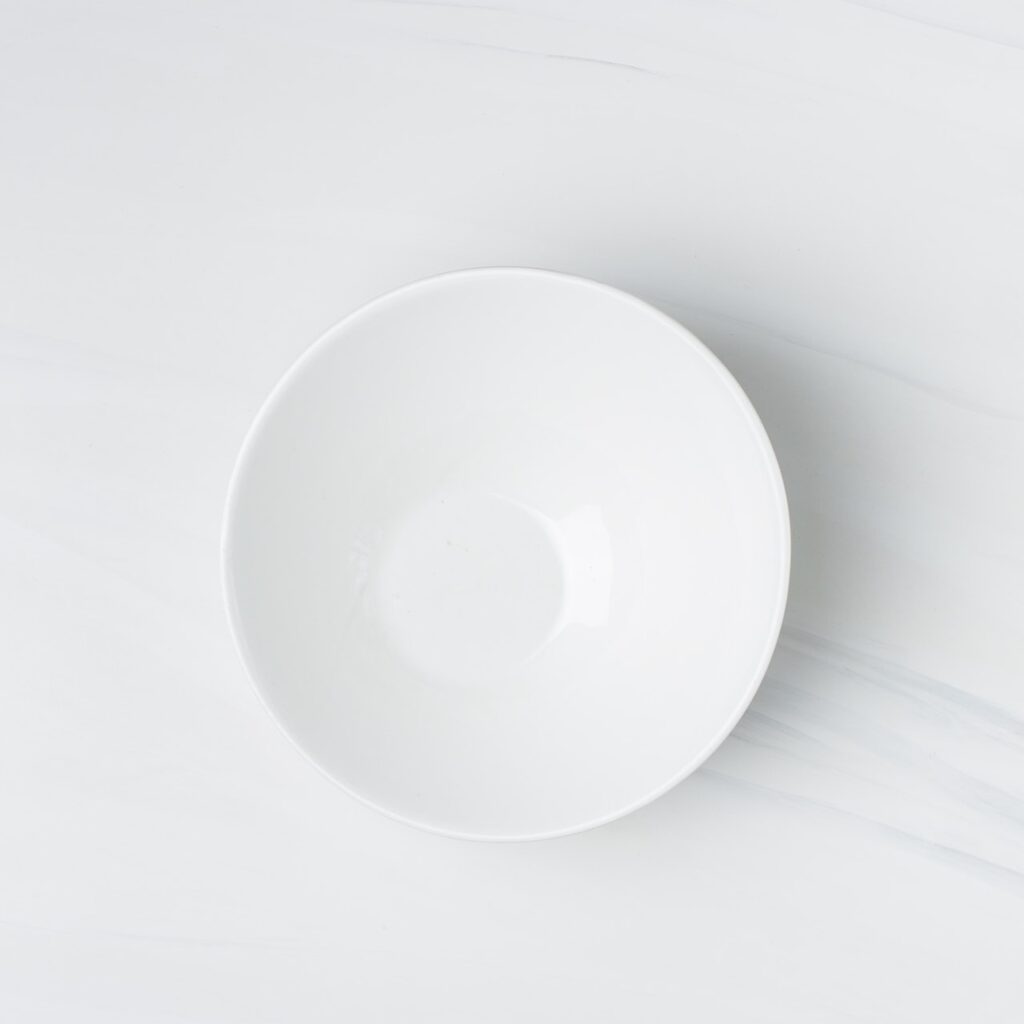 Sometimes, Thanksgiving can feel like an endless day of eating. Breakfast is followed by snacks, and appetizers, the main courses, and of course, you have to squeeze in a slice of pie (or two). I find that I'm usually stuffed by noon!
However, one of the most effective ways to prevent overeating is to be mindful of portion sizes. It can be easy to graze and snack all day, however, you may find yourself eating two, three, or even four times the portion size without realizing it!
Standard portion sizes are as follows:
Nuts: ¼ cup
Cheese: 1 oz (about 1 slice of cheese)
Chips/Crackers: varies, depending on the type – check out the nutrition label for the individual portion size!
Dips: usually about 1-2 tbsp
Meat/Protein: 3 oz (about the size of the palm of your hand)
Veggies: 1 cup raw, or ½ cup cooked
Fruits: 1 cup raw, or ½ cup cooked
Alcohol: 12 oz of beer (standard 5% ABV), 5 oz of wine, 1.5 oz of liquor – 1 drink for women, 2 drinks for men
While each of these measurements reflects one single portion size, it does not mean that you always need to limit yourself to one portion. You may serve yourself more or less! For example, while snacking on appetizers, it is completely acceptable to portion out 2 oz of cheese (2 serving sizes) + 1.5 oz of salami (½ the serving size) + 1/2 cup of apple slices (½ the serving size). See what I mean?
So, grab a plate, serve yourself what you think you'll eat, and enjoy your time!
Practice Mindfulness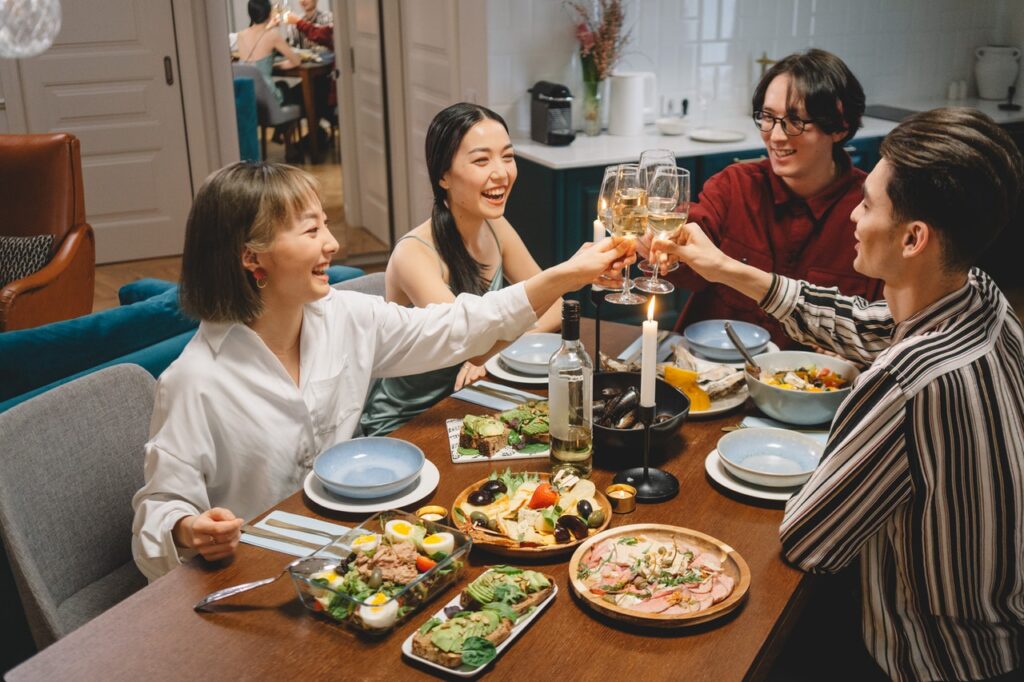 Have you ever practiced mindful eating? If not, Thanksgiving is a great day to start. Simply put, mindful eating is the acknowledgement of, and attention to, feelings around food choices, and feelings of hunger and fullness during mealtimes. Rather than gobble up your food quickly without thinking (turkey pun intended), you can practice a few techniques to help you be more mindful during Thanksgiving dinner.
Start by giving thanks! Remind yourself why you've gathered with friends and family on this day, and what you are thankful for. This is a great start to the mindful eating process, and will get you in the right mindset.
Slow down. Mindful eating can help us tap back into important appetite cues that tell us, "Eat! You're hungry!" or "Stop eating, you feel satisfied!". It can be hard to listen to feelings of hunger and fullness when we aren't really paying attention. One way to pay better attention to those feelings – slow down and enjoy your food.
Use your senses. We register food enjoyment with our senses. Smell, taste, touch, sight, and even hearing! When you slow down your pace of eating, it can allow you to spend more time being mindful about how your meal impacts your senses, beyond just taste. This can also encourage greater appreciation for the flavor and quality of the meal you're eating. Savor every bite like it's your last!
Remove distractions. One of the biggest barriers to mindful eating is distraction, particularly, electronic distractions. So, put those screens away. Place your phone in the other room while you eat. Enjoy time with family and friends!
Practice Flexibility this Thanksgiving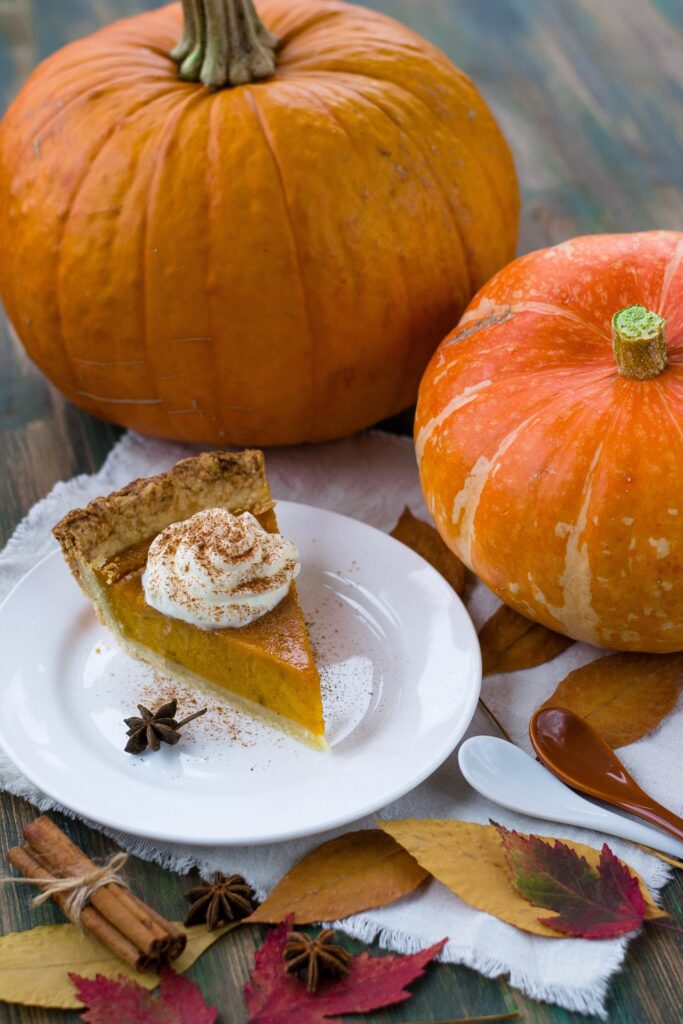 When it comes to Thanksgiving dinner, there are plenty of ways to make healthy choices! However, let's note that while we should all aim for a wholesome, healthy diet, it's also important to find balance in our choices. While we don't choose pumpkin pie for its nutritional value, we might choose it because it makes us feel good. It might be part of a Thanksgiving tradition! Pumpkin pie might be the one dish you look forward to all year. Ultimately, food may have value, aside from its nutritional value, and that is just as important to consider when we make healthy choices.
I never want to feel guilty about the foods I eat on special days, like Thanksgiving. I grant myself permission to be flexible. And you should too! Thanksgiving only comes once a year, and we all deserve the chance to enjoy the day to its fullest. However you choose to spend your Thanksgiving this year, I hope it is filled with delicious food, quality time, and happy memories. I wish you the happiest Thanksgiving; I am so grateful for you, your support, and your trust. Now, let's eat!
Citations
Myers, Jonathan. "Exercise and Cardiovascular Health." Circulation, vol. 107, no. 1, 2003, https://doi.org/10.1161/01.cir.0000048890.59383.8d.
"Exercising to Relax – Harvard Health Publishing." Harvard Health, 7 July 2020, https://www.health.harvard.edu/staying-healthy/exercising-to-relax.
"More Evidence That Exercise Can Boost Mood." Harvard Health, 1 May 2019, https://www.health.harvard.edu/mind-and-mood/more-evidence-that-exercise-can-boost-mood.
Guszkowska, Monika. "Wpływ ćwiczeń fizycznych na poziom leku i depresji oraz stany nastroju" [Effects of exercise on anxiety, depression and mood]. Psychiatria polska vol. 38,4 (2004): 611-20.
Toni Golen, MD, and MD Hope Ricciotti. "Does Exercise Really Boost Energy Levels?" Harvard Health, 1 July 2021, https://www.health.harvard.edu/exercise-and-fitness/does-exercise-really-boost-energy-levels.
"Osteoporosis: Peak Bone Mass in Women." National Institutes of Health, U.S. Department of Health and Human Services, https://www.bones.nih.gov/health-info/bone/osteoporosis/bone-mass.
Toni Golen, MD, and MD Hope Ricciotti. "Does Exercise Really Boost Energy Levels?" Harvard Health, 1 July 2021, https://www.health.harvard.edu/exercise-and-fitness/does-exercise-really-boost-energy-levels.
My Favorite Fall Salad Recipes
Salads have a bad reputation for being… well, a little lackluster. And while they certainly can be, we don't have to settle for a boring salad!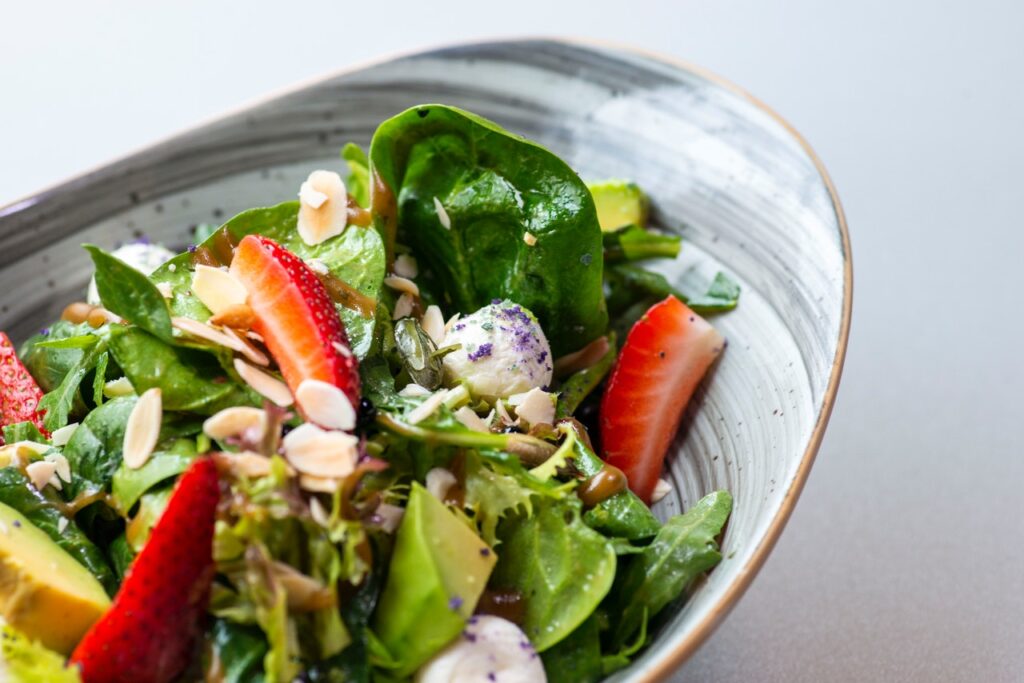 Personally, I love salads, and enjoy finding new ways to liven them up throughout the seasons. Fall salads, in particular, are some of my favorite – the ingredients that are in-season this time of year always bring such amazing flavor and texture to a bowl of leafy greens. I have a couple of great recipes up my sleeve, and of course, I have to share them with you!
But, before I share my three favorite fall salad recipes with you, I also wanted to share some of my go-to 'pro' tips for building the perfect salad. You'll never eat a boring salad again:
Always use a mix of greens – i.e. arugula + spinach, spring mix, kale + red lettuce
Add fresh herbs, like basil, parsley, sage, cilantro, etc. to your salads for amazing flavor!
Balance out all the flavors and textures – try to include something sweet, something bitter or acidic, something creamy, and something crunchy
Make your own dressing!
Don't forget to season – salad deserves salt and pepper too (though you should save this until the very end)
Follow these tips, and you'll never eat a bland salad again! And now, let's get to my top three fall salad recipes.
What you'll need…
Roasted Root Vegetable Salad – Serves 2-4 Individuals
4 cups mixed greens
¾ cup butternut squashed, peeled, cut into ½ inch cubes, and roasted in olive oil, salt, and pepper
¾ cup beets, peeled, cut into ½ inch cubes, and roasted in olive oil, salt, and pepper
½ cup goat cheese
¼ cup pumpkin seeds, roasted until golden brown
Sage, diced, to taste
For the dressing: 1/2 cup orange juice, freshly squeezed, 4 tbsps apple cider vinegar, 2 tbsp honey, 2 tbsp dijon mustard, salt and pepper (to taste), 2/3 cup olive oil
Autumnal Apple Salad – Serves 2-4 Individuals
4 cups spinach + arugula
1 cup apple, cut into ½ inch cubes
½ cup red onion, sliced
⅓ cup pecans, roasted until lightly browned
1/4 cup gorgonzola cheese
Chives, sliced, to taste
For the dressing: 1/2 cup balsamic vinegar, 2 tbsp honey, 2 tbsp olive oil, 1 tsp dijon mustard
Kale Power Salad – Serves 2-4 Individuals
4 cups kale + spinach
½ cup golden figs, sliced in half
1 cup acorn squash, sliced and roasted in olive oil, salt, and pepper
⅓ cup walnuts, roasted until golden brown
½ cup feta cheese
For the dressing: 2 tbsp minced shallot, 1 clove garlic minced, 3 tsp Dijon mustard, 1 tsp salt, 1 tsp pepper, 2 tbsp honey, 3 tbsp apple cider vinegar, ½ cup oil (olive works well)
For all of these recipes, you'll need to…
Begin by roasting the vegetables (butternut squash and beets in the first recipe, and acorn squash in the third recipe) in the oven at 375º F for 30 minutes, or until tender. While the vegetables are roasting, combine salad dressing ingredients in a bowl, whisk until well combined. Set aside.
When the vegetables are nearly done, roast the nuts in the oven at 375º F for no more than 3 minutes. If they still need some additional browning, leave them in the oven for another few minutes, checking often to make sure they don't burn (this happens quickly!).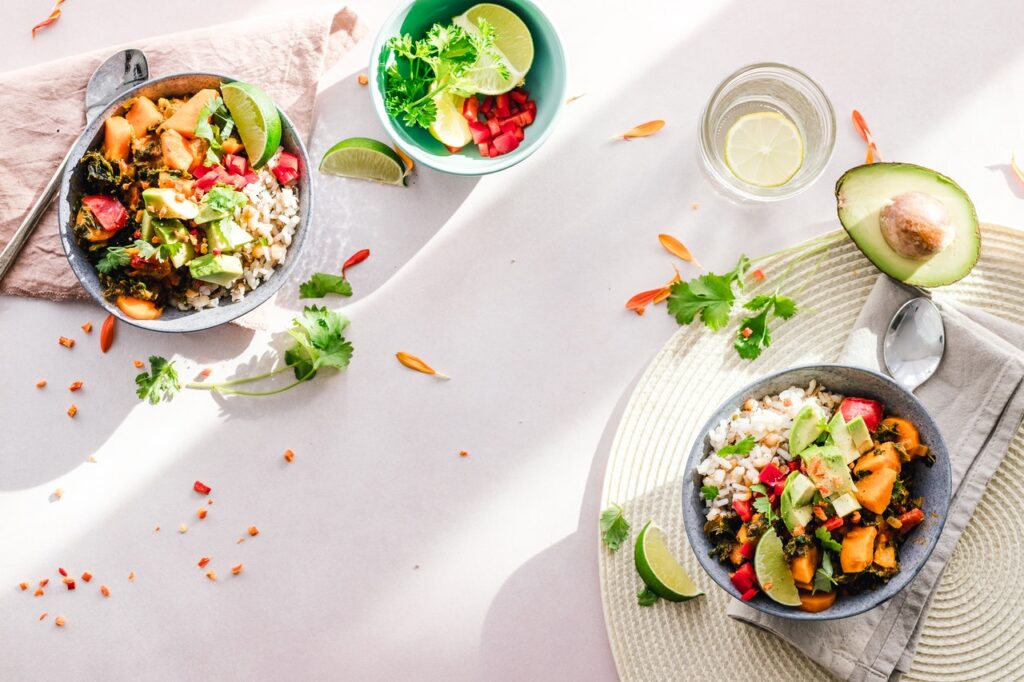 In a large bowl, add salad ingredients for each of these recipes, and toss together with dressing until well combined. Serve, and enjoy!
What do you think about salads? Whether or not you think salads are the best, you'll have to let me know if you try one (or all) of these recipes! Send me an email at info@everbella.com!
When I was little, my mom would always make this salad for every potluck and barbeque we attended. And people raved about it! Of course, as a kid, I LOVED it too!
When I got old enough, I started making it on my own…
And now it's a It's a MUST-HAVE item at every gathering.
Ultimate Potato Salad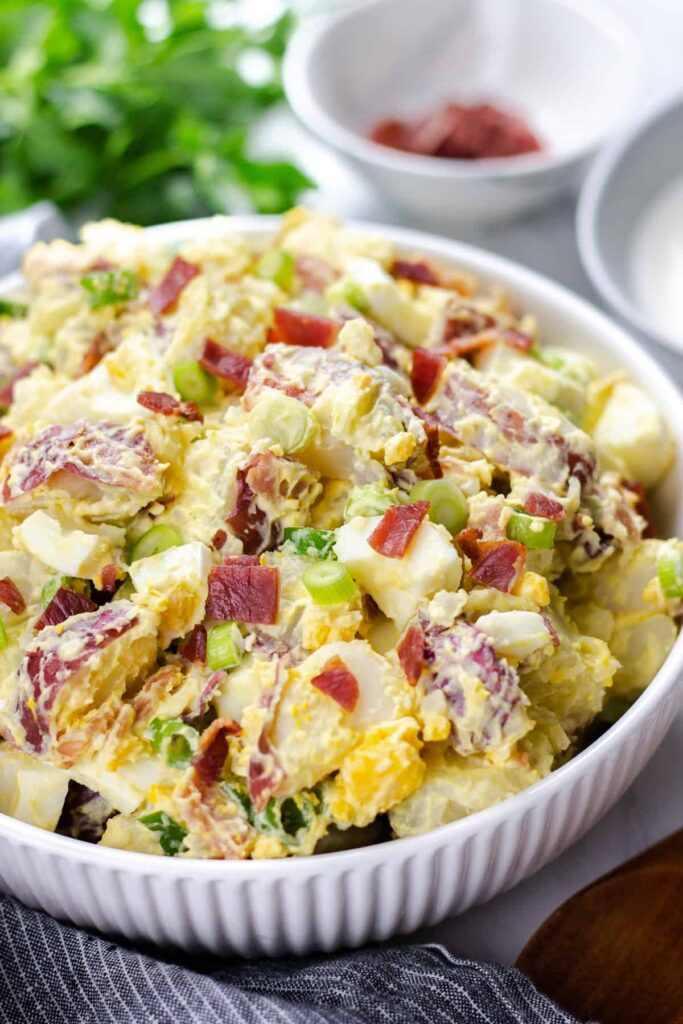 Potato salad is such a fun and versatile salad to make. There are many different options and ingredients to spice things up!

It is gluten free based on the ingredients I use and it can also be made to be vegetarian as well.
Now, it's time for Mom's famous potato salad recipe…
Ingredients:
1 small bag of baby yukon gold potatoes (they are my favorite, but you can also use white or baby red potatoes).

QUICK TIP:

I try to stay away from waxy potatoes like russett as they tend to become a bit more mushy!
5 diced hard boiled eggs
1 pack of crispy bacon
1 stalk of celery
1 onion (scallions, red, or white – whatever you prefer)
1 crisp sweet pickle
1 tablespoon vinegar
2 cups of mayonnaise (you can also use sour cream or even some greek yogurt for a healthier alternative)
1 tablespoon fresh dill
1 teaspoon of salt
1 teaspoon of pepper
My mom also taught me to make sure the potatoes don't get too mushy (keep reading).
My mouth is watering so let's jump right in!
How to Make it:
First things first, boil the eggs the night before, allowing them to sit overnight in the fridge. So once they have sat overnight, dice them up into chunks and just set them aside for now.

Next, prepare the potatoes. Rinse them off and cut them into a size you like best (I like mine larger). I also keep the skin on mine for some added flavor.
Then, place in a pot of water and bring to a boil. Once they are at a boil, stir in some salt, and adjust the heat so the potatoes are at a low-boil… meaning they're boiling, just not as vigorously (you want to avoid having the skins peel off completely). Boil for about 10-12 minutes, until you can easily pierce with a fork. Make sure to keep a close watch, as there is a fine line between a gentle pierce with a fork (still a bit firm) versus complete mush for mashed potatoes.

Once they have boiled, remove them from the pot of water into a colander and run them under cold water for a minute or so to stop the cooking process. Drain them by shaking well to get any water off and then set them aside in a bowl. Then, add vinegar (I prefer apple cider vinegar for flavor). Add as little or as much as you want – and fear not if they smell too strong of vinegar as this will ease up greatly with the other ingredients and the dressing!
Now, start on your dressing. I use a mayo based dressing, but you can also use sour cream or even some plain greek yogurt for a healthier alternative! Combine the mayo (2-3 cups depending on the portion size you are making), dill, salt, pepper, into a large mixing bowl. I use the same bowl for mixing the ingredients in after also.

Once the dressing is all whisked up nicely, you can move on to the remaining ingredients.

You can buy pre-cooked bacon if you are in a hurry or cook up your own. I like to cook thick-cut bacon on my own, and I cook them so they are nice and crispy. That extra crunch in the salad is a nice touch!

After the bacon has cooked and cooled down, chop it up into pieces (again, as big or small as you would like). I like to make them just a bit bigger than bacon bit size. Of course, you can completely skip the bacon for a meat free option or even add some diced tofu.

Then, dice up the rest of the ingredients: celery, onions and pickles.

Finally, take all of the remaining prepared ingredients (potatoes, eggs, celery, onions, and pickles) and add them to the mixing bowl you have the dressing in.
Stir well to combine then but be careful as to not mush down the potatoes while you stir. For an extra kick, sprinkle on some paprika or even some cayenne pepper on top!
You will want to chill the salad for about 3-4 hours to let all the flavors set in and really have it settle.

And that my beautiful friends is my favorite potato salad recipe of all time!