Here at EverBella, we want YOU to feel forever beautiful, inside and out.
And, I am truly honored that you are trusting me with your hair, skin, and health!
That one delicious tablespoon-full of caramel each day will help begin your journey to healthier hair, radiant skin, more energy, and a leaner figure!
It's important to note that if you're really serious about nourishing yourself, you need to give Complete Collagen+ time to deliver its full benefits.
Most women FEEL a difference within a few weeks… and SEE a difference within 2-3 months. For more serious issues, like the hair loss I was experiencing, full restoration may take several months and results may vary with time.
So, if you want to ensure you're consistent with your daily supplementation to achieve the best results possible…
I highly recommend that you join our loyalty club.
This will allow Complete Collagen+ to be delivered straight to your door every single month.
Never again will you get to the bottom of your delicious caramel collagen bottle and think….
Aw SHUCKS! I need to place another order!
And then, have to log online…
Grab your credit card…
Place your order…
Wait for your new supply to arrive…
And disrupt up your daily self-care routine.
Or worse…
Miss out on that delicious caramel latte each morning!
And – best of all – You can save 10% on every bottle!
So instead of paying $39.95/bottle…
You'll pay just $35.95 per bottle!
This way, you will:
NEVER miss a dose and can enjoy that delicious spoonful of caramel every single day!
Fully experience the incredible benefits of Complete Collagen+ without ever having to worry about placing another order again!
And, save your hard-earned money!
Most importantly…
Month after month you can look in the mirror and…
Admire your stronger, fuller, and healthier-looking hair
See your skin glow with that youthful dewiness
Banish the look of fine lines and wrinkles
Appreciate your lean figure and more energized self
Love what you see and feel your best
And, if you decide you do not need a monthly delivery any longer, you can cancel super easily with our no-hassle customer service team by calling them at 1-855-961-3837 or emailing them at support@everbella.com.
We truly want you to look and feel great while saving time and money!
So, If you want to experience the best results…
It's best to take Complete Collagen+ every single day.
That way you can look and feel your best all the time – Even if you're too busy to order.
Join Our VIP Loyalty Club Today
And save 10% EVERY SINGLE MONTH


1 MONTH SUPPLY
2 BOTTLES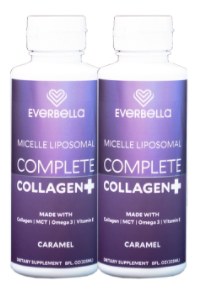 Complete Collagen+
$39.95/bottle


$35.95/bottle