Looking for a delicious and healthy way to satisfy your sweet tooth? Look no further than this amazing cinnamon roll recipe!
These rolls are made with whole wheat flour, honey, and cinnamon, making them a healthier alternative to traditional cinnamon rolls. They are also vegan and gluten-free, so they are perfect for anyone with dietary restrictions.
Give this recipe a try today and you will not be disappointed!
*For any of the vegan ingredients, feel free to use a non-dairy option if you'd prefer! Same goes with the gluten-free flour – you can go ahead and use the same amount of all-purpose flour.
YIELD: 8 LARGE CINNAMON ROLLS
Here's what you'll need:
For The Cinnamon Rolls
1 packet of active dry rapid rise yeast (2 1/4 teaspoons or 11 mL)
1 cup warm non dairy milk
3 tablespoons granulated sugar
1/4 cup vegan butter, melted
1/4 teaspoon salt
2 1/2 cups gluten free flour (I recommend Bob's 1:1 Baking Flour)
For The Filling
1/3 cup brown sugar
2 Tablespoons ground cinnamon
4 tablespoons vegan butter, room temperature
For The Vegan Cream Cheese Frosting (Optional)
1 1/2 cups powdered sugar
2 tablespoons vegan cream cheese
2 tablespoons vegan butter, room temperature
1 teaspoon vanilla extract
Pinch of salt
1 1/2 tablespoons non dairy milk
Here's what you'll need to do: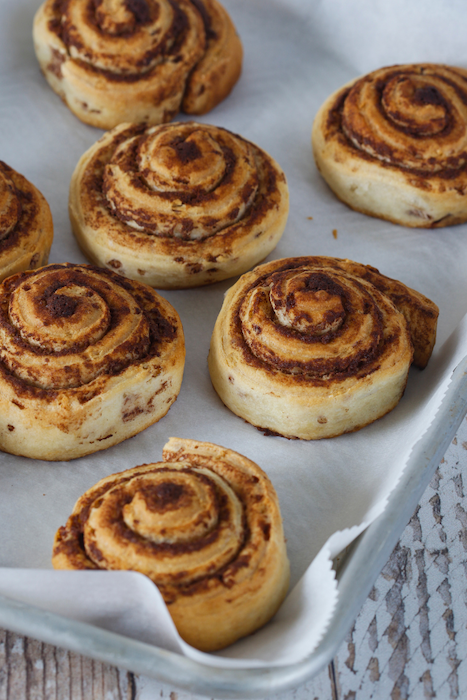 Combine the milk, sugar, and yeast in a stand mixer fitted with the dough hook. Allow to sit for 5 minutes. The mixture should foam, signaling that the yeast is active.

Add the melted butter and 1 cup of the gluten-free flour and the salt. Mix until just combined. Add in remaining flour and mix until the dough forms a ball and comes together. Turn the dough out onto a heavily floured surface and knead for 15 minutes or until the dough is mostly smooth.

Coat a large bowl with oil and place the dough into the bowl. Cover with plastic wrap and set in a warm area to proof for one hour.

In a small bowl, combine the brown sugar and cinnamon for the filling. Lightly grease a 9 inch round baking pan. Set both aside.

After the one hour, look at the dough. The dough should be about doubled in size. Turn the dough out onto a floured work surface. Roll the dough out into a 9×13 inch rectangle. The dough will be thick. This is what you want. Spread the melted butter over the dough, coating it evenly, all the way to the edge. Sprinkle on the brown sugar/cinnamon mixture and rub into the butter to combine.

Working from the long edge, roll the dough into a log, pinching the ends so it stays together. Using a serrated knife, cut the dough into 8 equal buns. Place into the prepared pan.

Allow the dough to rise a second time. Cover the pan with a cloth and let it rest in a warm place for another hour.

Preheat the oven to 375°F. Bake for 20-30 minutes, until the cinnamon buns are golden brown on top.

While the cinnamon rolls are baking, make the cream cheese frosting. Combine all frosting ingredients in a bowl and whisk until combined. (Optional).

Once the cinnamon rolls are out of the oven, cool for 10 minutes. Microwave the frosting for 10-15 seconds to thin it out slightly, then spread over warm cinnamon rolls and serve!
Want an even healthier way to satisfy that cinnamon roll craving?
Okay, I'll admit – while the above recipe will yield YUMMY cinnamon buns that are healthier than your average rolls, it's going to take a bit of work.
If you're looking for an even easier way to satisfy that cinnamon roll craving, I've got what you need.
Not only does it taste exactly like a delicious cinnamon roll, Complete Biotin Plus gives you the biotin you need to support your systems and boost your hair growth!
Plus it contains FOUR other essential compounds that greatly benefit your health.
Can you guess what they are?