Recipe – Healthy Baked Caramel Apples
There's nothing better than a warm, comforting treat to enjoy on a fall day. Finding new, healthy recipes to satisfy my sweet tooth is a must, so I wanted to share with you my FAVORITE recipe I discovered this season. It's delicious, it's quick, and it's actually pretty good for you!
These baked caramel apples are so yummy, and are the perfect treat to end your next stay-in date night, to curb your evening sweet tooth, or even to share with the whole family. And, who doesn't love getting in your daily fruit servings while enjoying dessert! Haven't you heard? An apple a day keeps the doctor away!
Apples are loaded with nutrients, such as vitamins A, C, E, K, B vitamins, and some minerals such as potassium, manganese, and copper. They're also low in calories, high in fiber, and contain powerful phytonutrients that contribute to their amazing healthy benefits.
So, make sure to bookmark this recipe. Between the taste and the health benefits, you're going to want to make this recipe again and again and again.
Here's what you need…
4 medium/large apples (honey crisp are my favorite, but you can use whatever variety you like best)
1 cup rolled oats
¼ cup white sugar
¼ cup brown sugar
½ tsp cinnamon
¼ tsp nutmeg
2-3 tbsp butter, cold
1-2 packets of Complete Collagen+ 
Here's what you need to do…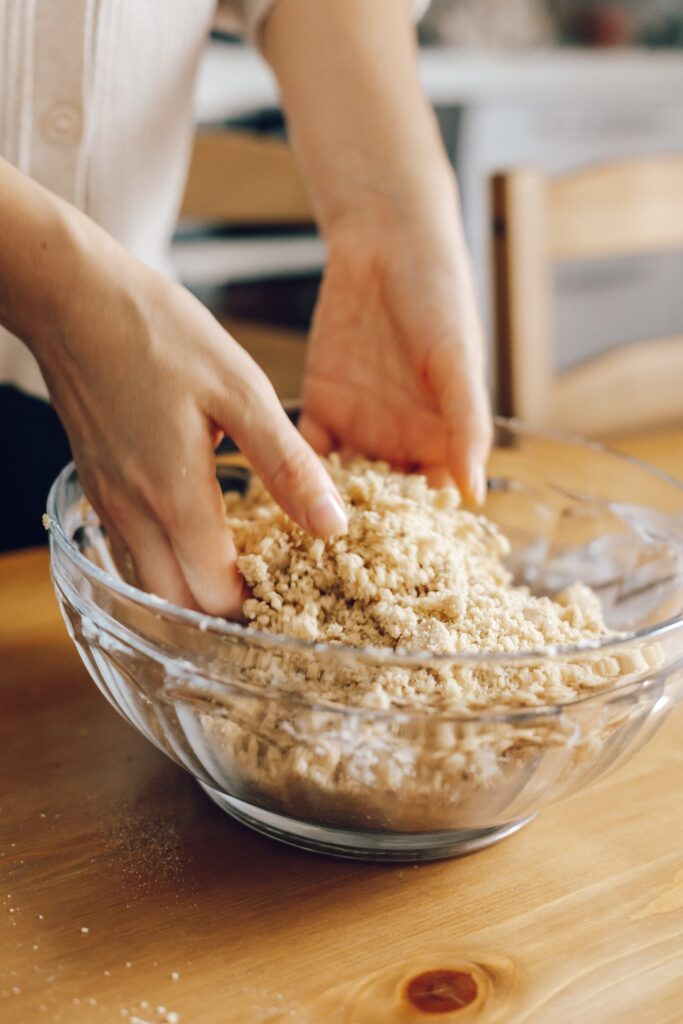 Preheat your oven to 350º. Begin by slicing the apples in half, and scooping out the center until the core is gone, and there is a generous hole (you'll be adding filling to the apple!)

Note: Once you remove the core, you might start to remove some of the flesh of the apple itself to carve out a large enough bowl for the filling to sit in. While it's not necessary for the recipe, I love to save the extra apple, and add it to the mixture in step 2!

In a medium sized bowl, add the rolled oats, sugars, cinnamon, and nutmeg (and extra apple if you like). Mix to combine.
Cut the butter into small, half-inch sized cubes, and add to the oat mixture. Try to cut in the butter so that it forms a crumbly mixture.
Add about a ¼ cup of the oat mixture to each apple. Place on a baking sheet, and bake for about 20-25 minutes, or until the apples are soft and golden brown.
Drizzle with Complete Collagen+ to finish off this sweet treat. You can also enjoy this dessert with a scoop of vanilla ice cream or frozen yogurt!
I love this recipe, because not only does it combine some delicious ingredients that I love, but it's the perfect treat to add Complete Collagen+. So not only are you getting that lovely caramel flavor, but you're also giving your body all the amazing benefits that come with it!
Did you try this recipe? Let me know what you think at info@everbella.com!
When I was little, my mom would always make this salad for every potluck and barbeque we attended. And people raved about it! Of course, as a kid, I LOVED it too!
When I got old enough, I started making it on my own…
And now it's a It's a MUST-HAVE item at every gathering.
Ultimate Potato Salad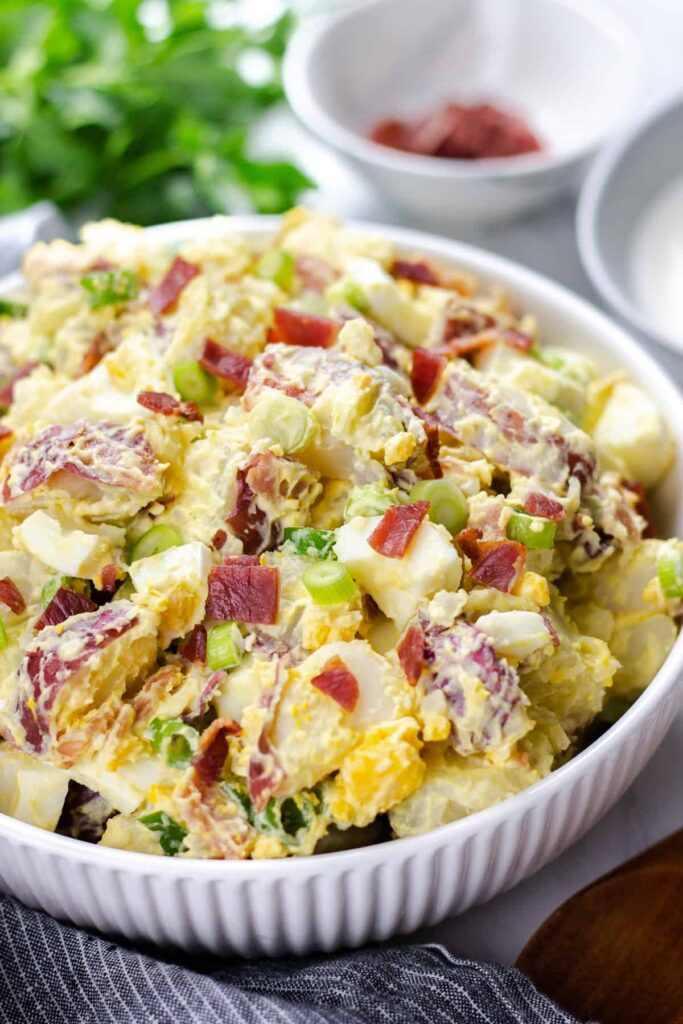 Potato salad is such a fun and versatile salad to make. There are many different options and ingredients to spice things up!

It is gluten free based on the ingredients I use and it can also be made to be vegetarian as well.
Now, it's time for Mom's famous potato salad recipe…
Ingredients:
1 small bag of baby yukon gold potatoes (they are my favorite, but you can also use white or baby red potatoes).

QUICK TIP:

I try to stay away from waxy potatoes like russett as they tend to become a bit more mushy!
5 diced hard boiled eggs
1 pack of crispy bacon
1 stalk of celery
1 onion (scallions, red, or white – whatever you prefer)
1 crisp sweet pickle
1 tablespoon vinegar
2 cups of mayonnaise (you can also use sour cream or even some greek yogurt for a healthier alternative)
1 tablespoon fresh dill
1 teaspoon of salt
1 teaspoon of pepper
My mom also taught me to make sure the potatoes don't get too mushy (keep reading).
My mouth is watering so let's jump right in!
How to Make it:
First things first, boil the eggs the night before, allowing them to sit overnight in the fridge. So once they have sat overnight, dice them up into chunks and just set them aside for now.

Next, prepare the potatoes. Rinse them off and cut them into a size you like best (I like mine larger). I also keep the skin on mine for some added flavor.
Then, place in a pot of water and bring to a boil. Once they are at a boil, stir in some salt, and adjust the heat so the potatoes are at a low-boil… meaning they're boiling, just not as vigorously (you want to avoid having the skins peel off completely). Boil for about 10-12 minutes, until you can easily pierce with a fork. Make sure to keep a close watch, as there is a fine line between a gentle pierce with a fork (still a bit firm) versus complete mush for mashed potatoes.

Once they have boiled, remove them from the pot of water into a colander and run them under cold water for a minute or so to stop the cooking process. Drain them by shaking well to get any water off and then set them aside in a bowl. Then, add vinegar (I prefer apple cider vinegar for flavor). Add as little or as much as you want – and fear not if they smell too strong of vinegar as this will ease up greatly with the other ingredients and the dressing!
Now, start on your dressing. I use a mayo based dressing, but you can also use sour cream or even some plain greek yogurt for a healthier alternative! Combine the mayo (2-3 cups depending on the portion size you are making), dill, salt, pepper, into a large mixing bowl. I use the same bowl for mixing the ingredients in after also.

Once the dressing is all whisked up nicely, you can move on to the remaining ingredients.

You can buy pre-cooked bacon if you are in a hurry or cook up your own. I like to cook thick-cut bacon on my own, and I cook them so they are nice and crispy. That extra crunch in the salad is a nice touch!

After the bacon has cooked and cooled down, chop it up into pieces (again, as big or small as you would like). I like to make them just a bit bigger than bacon bit size. Of course, you can completely skip the bacon for a meat free option or even add some diced tofu.

Then, dice up the rest of the ingredients: celery, onions and pickles.

Finally, take all of the remaining prepared ingredients (potatoes, eggs, celery, onions, and pickles) and add them to the mixing bowl you have the dressing in.
Stir well to combine then but be careful as to not mush down the potatoes while you stir. For an extra kick, sprinkle on some paprika or even some cayenne pepper on top!
You will want to chill the salad for about 3-4 hours to let all the flavors set in and really have it settle.

And that my beautiful friends is my favorite potato salad recipe of all time!