Tag:
homemade blackberry vanilla mint soad
Homemade Blackberry Vanilla Mint Soda
When the weather gets warmer, we turn to a nice refreshing drink to cool us down and quench that thirst.

And since I am a mom-to-be, I have been looking for more non-alcoholic summer drinks that I can enjoy!
And.. let me tell you, this is GREAT ONE!

I make it all the time and it is so delicious! It will be a summer staple for me forever.
Blackberry Vanilla Mint Soda Recipe
Sounds intriguing right?

That's what I thought, and boy was I right – It's bubbly, aromatic, and so refreshing!
And the recipe is super simple.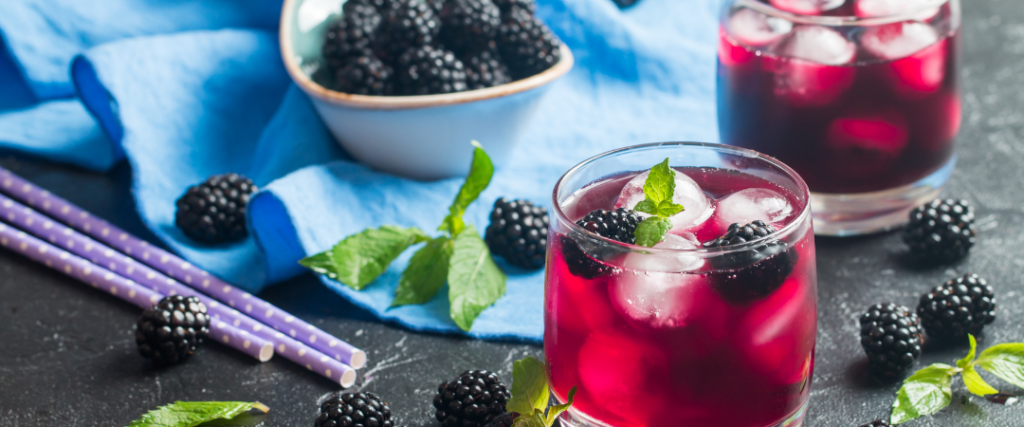 Without further ado…
Ingredients:
¼  cup water
¼  cup honey (I prefer honey, but you can use whatever sweetener you like best)
1 cup fresh blackberries
1 tbsp lemon juice
5 fresh mint leaves
1 tsp vanilla extract
Seltzer water
Ice

How to Make it:
Take a small saucepan and set it over medium heat. Combine the water, honey, mint leaves and your fresh raspberries.
Heat for about 5 minutes – until the mixture is bubbling and the honey has dissolved.
Stir and cook for about another 5 minutes, until the blackberries have cooked down into the mixture.
Take a fine, mesh strainer/colander over a bowl and strain the mixture by pressing down on the pulp to squeeze out the juice.
Add the lemon juice and vanilla extract, and let this chill in the refrigerator for an hour in an airtight container.
Once it has chilled, fill a glass with some ice, and add 2-3 tbsp of the delicious blackberry syrup and about 1 cup of seltzer.
ENJOY!
Note: You can store this syrup in an airtight container in your refrigerator for about 2-3 weeks!