Deep Cleansing Lemon Hair Scrub
Face scrubs are all the craze and they are great for us – but what about our hair and scalp?

We should be showing our hair and scalp the same love as our skin.

Of course, we all want nourished and healthy hair.

And there are plenty of foods we can eat to help give our hair the nourishment it desires…

But just like our face, we can also add in a nice pampering scrub every now and then.

This is an at-home hair scrub your hair will absolutely LOVE!

The complimenting ingredients will work as a powerful exfoliator and help shed any skin and lose any oil that may be clogging your hair follicles while also hydrating the scalp.

It contains just sea salt, lemon juice, and olive oil. Only 3 ingredients but AMPLE nutrition!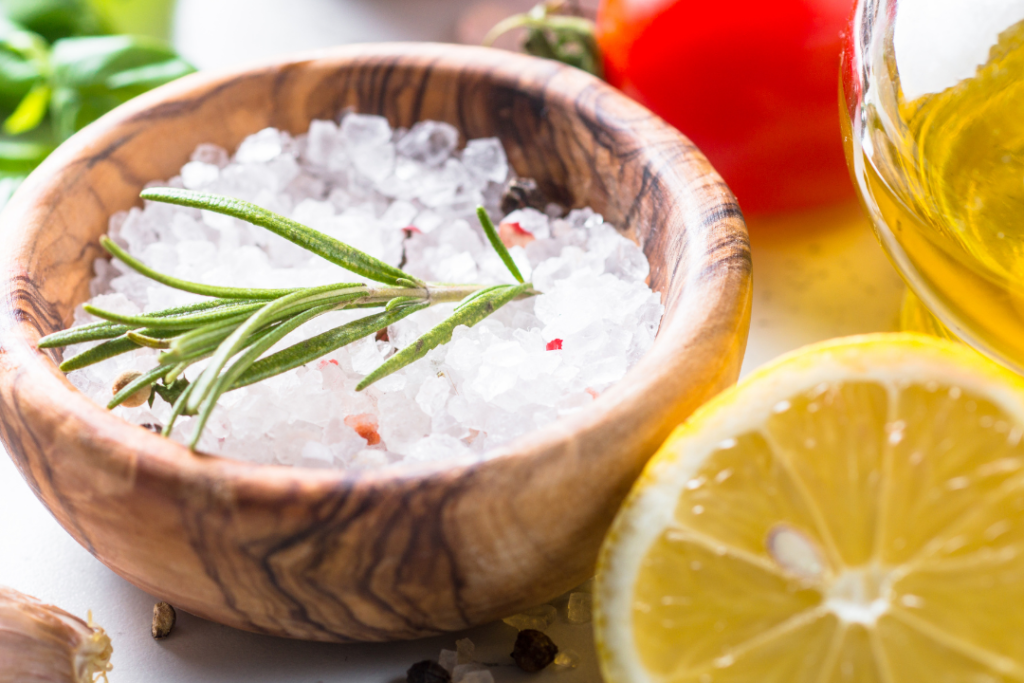 Okay, let's get started!
Here's what you need to grab:
2 tbsp of sea salt

— Salt helps loosen and remove existing flakes while stimulating circulation for a healthy scalp. It also absorbs excess oil and moisture to help prevent fungal growth and lessen the chances of dandruff.

2 tbsp of lemon juice

— Lemon juice can cleanse the scalp and hair follicles, while restoring healthy pH levels, and removing build-up of hair products, oils, and pollutants.

2 tbsp of olive oil

— Olive oil is loaded with vitamins A and E which help fight free radicals that can trigger hair loss.
Next…
Combine all ingredients into a bowl
Apply the mixture to damp hair while massaging it into the scalp
Leave on for 10-15 minutes to let it soak in well
Rinse well with warm water and continue to shampoo and condition as usual
And there you have it!
A super simple but powerful DIY hair scrub that will leave your scalp feeling the love it deserves!
Feed Your Hair: 5 Best Foods For Your Hair
You are what you eat.

That is a very true saying.

And think about it…

If you eat healthy foods, you will feel vibrant and healthy.

And if you eat unhealthy junk foods, you will feel run-down and unhealthy.

So, it's a no-brainer…
We know we need to eat healthy foods to FEEL healthy on the INSIDE.

But what about on the OUTSIDE?

Did you know that what you eat affects not just your body internally…
But it also impacts the way you look externally?
There are hundreds of studies on this specific to all areas of your physical appearance.
But, for today, I am going to focus on one aspect…
Your Hair.
There are several foods that are beneficial for your hair quality that also provide nutrition.

Your hair is such an integral part of your everyday appearance, so we want to take care of it just like anything else on or in our body – Whether it be promoting hair growth, softer hair, less split ends, or even fuller hair.
Having a healthy balanced diet is crucial for overall hair health.