Skincare is an important aspect of maintaining good health. It helps us look and feel good, gives us better confidence, and a healthier appearance. And we all know – good skin doesn't typically just happen. It takes some effort on our part.

But what about when it comes to tighter skin?
As we age, our skin starts losing its natural elasticity, which can lead to sagging. Sagging skin is a natural process of aging and typically irreversible – however, what we may not know – is that we can actually improve the tightness on our skin with just a few home tips.

Here are 10 home remedies and tips to help tighten your skin!
1. Massage Your Skin Daily
Massaging your skin is a great way to help tighten your skin. Not only is it relaxing and calming, massaging it may also help tighten skin, by improving circulation and blood flow.

Try massaging each area of the skin you wish to tighten each day. This can help prevent the formation of wrinkles and fine lines, and make your skin more elastic for a fresher look.
2. Use Honey And Lemon To Tighten Your Skin
Honey is a powerful anti-oxidant. It has anti-aging properties which can help tighten saggy skin.

Mix honey into lemon juice to form a paste and apply it on parts of your face that are wrinkled or sagging. Leave the paste on for 20 minutes before rinsing with warm water and apply your favorite moisturizer to keep your skin supple, firm, and youthful.
3. Use Aloe Vera To Fight Aging Problems
Aloe vera is a plant with soft, gel-like leaves that are used in many medicinal and cosmetic products for its healing properties. Aloe vera extract helps in naturally increasing our collagen production, which further helps in reducing the visible signs of aging such as fine lines and wrinkles.

Collagen helps in decreasing wrinkles and helps in skin tightening. It also improves the elasticity of the skin. You can apply aloe vera on your face every night before going to bed.
4. Don't Smoke And Stay Away From Excessive Tanning
It's no secret smoking is bad for us internally in so many ways – but it also negatively impacts our appearance. Smoking causes wrinkles and premature aging of your skin due to excessive oxidation, so it is important that you avoid smoking regularly if you want to keep your skin looking fresh and youthful.

Furthermore, excessive UV exposure from the sun can cause you to age quicker than usual because it causes your cells to lose their elasticity, which leads to dryness and wrinkling of the skin.
5. Exfoliate Your Face To Remove Dead Skin Cells
It is important for you to exfoliate your skin regularly. Exfoliation helps in getting rid of dead skin cells and can help slow down the aging process as well as give your face a better look.

You can use scrubbing pads or make an exfoliating paste by mixing olive oil with sugar or honey and rub it onto your face for ten minutes before rinsing it off with lukewarm water.
6. Use Coconut Oil
Coconut oil contains properties that are similar to those found in human skin, so mixing it into the diet can help hydrate the body from the inside out. It also helps in getting rid of dead skin cells and reduces wrinkles by making your skin appear fresh, supple and younger-looking than before.
7. Try Rosemary Oil
Putting rosemary oil in your DIY skin-tightening remedies can do wonders for your skin. Rosemary oil is rich in compounds that help prevent the formation of wrinkles.

It also contains antioxidants that fight free radicals and reduces inflammation caused by harmful substances in the environment or food.
8. Use Almonds and Almond Oil
Almonds can help tighten your skin because of their vitamin content. They contain lots of iron, zinc, calcium, and vitamin E, all of which are essential for proper skin health.

Eat a handful of almonds every day or use it in your DIY home remedies to tighten your skin by rubbing almond oil onto the areas where you see wrinkles forming.
9. Use Egg Whites To Soften Taut, Dry Skin
Egg whites are used in many skincare products because they contain protein that helps soften the skin and remove wrinkles. Mix egg white into coconut oil to create a paste and apply on your face for 20 minutes before rinsing your face with lukewarm water. You can use a mild moisturizer to keep your newly softened skin from drying out.
10. Add Collagen Into Your Daily Routine
Collagen is a protein found in muscles, tendons, skin, ligaments, and bones. It makes up about 30% to 40% of proteins in the human body.

When skin is taut and firm, it has collagen to thank. Collagen is made of tightly constructed fibers, which help skin maintain its structure and firmness. Both elastin and collagen production decline as people age.

Collagen production typically begins declining around the age of 25 and continues to decrease approximately 1-2% per year afterward. Skin noticeably starts to lose its elasticity in your 30s to 40s as well as in the first 5 years of menopause when women's skin loses around 30% of its collagen. Adding collagen to your daily routine is a great way to ensure your body is getting ample collagen so it can go to work for you and your skin.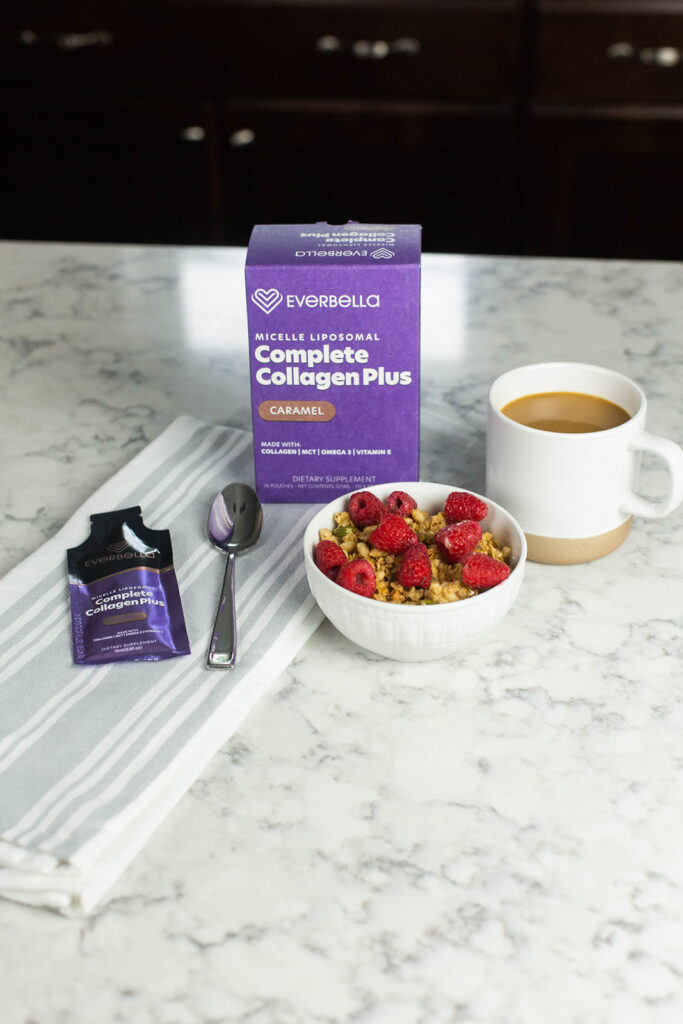 Of course- my secret weapon is Complete Collagen+. It has done wonders for my skin and hair! If you are looking to tighten up your skin a bit and reap the same benefits I have- try it today!
Try some of these tips and see how they can benefit your skin. Get that tighter skin you have always wanted!

Stay beautiful!